Oticon Launches Ruby Hearing Aid for Budget-Conscious Patients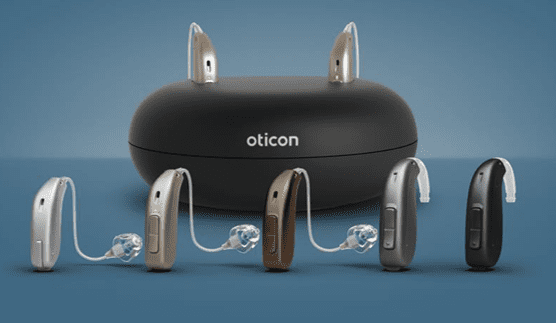 For consumers returning to work and social activities in an uncertain economic climate, the newest addition to Oticon's line of technology offers a combination of "sound quality, sought-after features, and affordability," according to an announcement from the company.  The new Oticon Ruby "sets a new standard in the essential category, delivering great sound quality, hassle-free rechargeability, and easy wireless connectivity in one complete solution—all within the reach of today's budget-conscious patients."
Powered by the Velox S platform, Oticon Ruby introduces the new SuperShield feedback management system that "helps prevent feedback before it occurs, so patients can enjoy hearing without interruptions from unwanted whistling and squealing." For patients who want the convenience of rechargeable batteries, a new lithium-ion rechargeable option helps provide a full-day's* charge in a few hours. Bluetooth connectivity helps enable patients to connect to smartphones and other modern devices to stream audio and music directly to their hearing aids.
"After experiencing this time of social distancing, consumers recognise the value of easy access to modern technologies to stay connected with family, friends, and business colleagues," said Don Schum, PhD, Vice President of Audiology for Oticon, Inc.  "Phone calls, video chats, and other virtual connections have become their lifeline to the world. These connections are enhanced with better hearing. At the same time, despite the start of an economic recovery, some patients may be more careful about spending. Oticon Ruby allows practitioners to offer patients looking for sought-after features, like rechargeability and easy wireless connections, a quality solution at a more affordable price."
Like all Oticon wireless hearing aids, Oticon Ruby is compatible with Oticon RemoteCare, a new telehealth solution that allows hearing care professionals to follow up online with patients to remotely adjust and fine-tune hearing aids in a virtual appointment. For select patients who have valid audiograms, first fit with Oticon RemoteCare allows hearing care professionals to fit new hearing aids remotely.
Honiton hearing centre 
Oticon Ruby and all Oticon hearing aids use BrainHearing technology to "help support the brain in making sense of sound and enable patients to participate in challenging listening environments." The Velox S platform powers the new SuperShield technology to analyse incoming sound levels, identify feedback, and prevent whistling before it occurs.
Oticon Ruby miniRITE R rechargeable hearing aids offer a full day* of power with an overnight charge. The charger helps provide a stable, reliable magnetic connection for charging that delivers power throughout the day, including streaming, with a three-hour charging time. A 30-minute recharge provides an additional six hours of power, according to Oticon.
With 2.4 GHz Bluetooth low-energy technology, Oticon Ruby helps deliver "easy wireless connectivity with low battery consumption to a wide range of devices such as smartphones, audio or music streams in stereo to both hearing aids from Bluetooth-connected mobile phones, MP3 players, PCs, and more." Patients can pair Oticon Ruby with multiple TV Adapters and use the Oticon ON App to stream from any TV. The Oticon ON App also lets patients adjust volume, switch settings, check battery level, and access features such as Find My Hearing Aid and Oticon HearingFitness.
Devon ear wax removal
Oticon Ruby is available in a full lineup of styles, including miniRITE, miniRITE T (telecoil), miniRITE R (rechargeable), BTE and BTE Power Plus, and five popular colours. Oticon Ruby is compatible with Oticon CROS hearing aids.
For more information on Oticon Ruby visit: www.Oticon.com/Ruby.
*Lithium-ion performance varies depending on hearing loss, lifestyle, and streaming behaviour
Source: Oticon
Image: Oticon
https://honiton-hearing.co.uk/wp-content/uploads/2019/02/Honiton-Devon-ear-wax-removal-Exeter-Tiverton-Lyme-Bay.png
640
640
admin
https://honitonnew.leecurran.co.uk/wp-content/uploads/2018/03/honitonhearinglogo.png
admin
2020-07-20 10:47:39
2020-07-20 10:47:39
Oticon Launches Ruby Hearing Aid for Budget-Conscious Patients