Phonak Launches Audéo Paradise Hearing Aid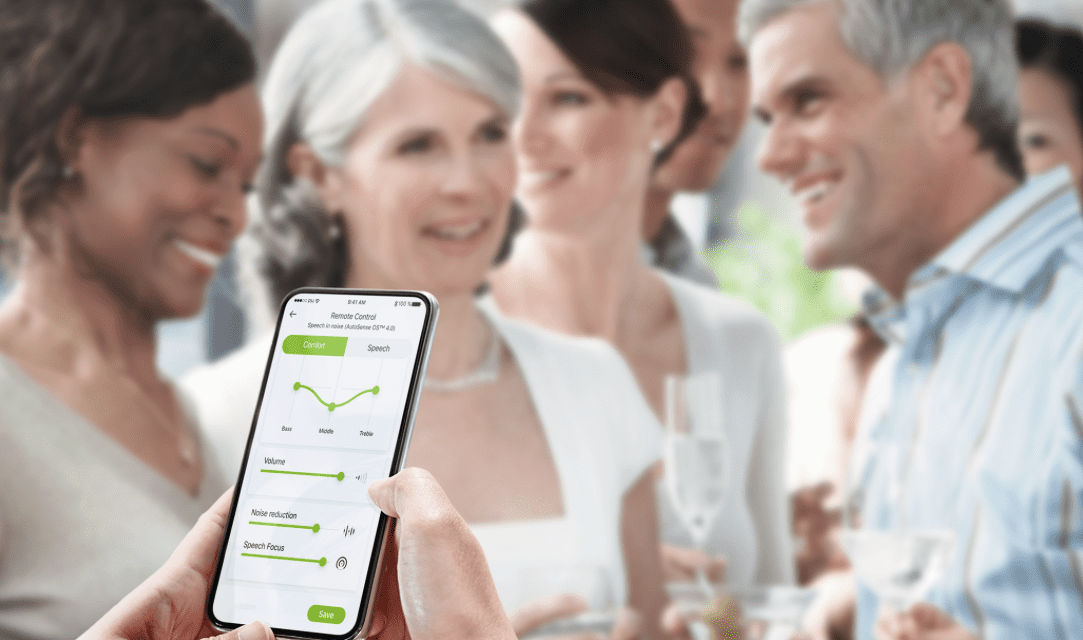 Phonak's Audéo Paradise Launch Supports the Company's Overall "Well Hearing is Well Being" Mission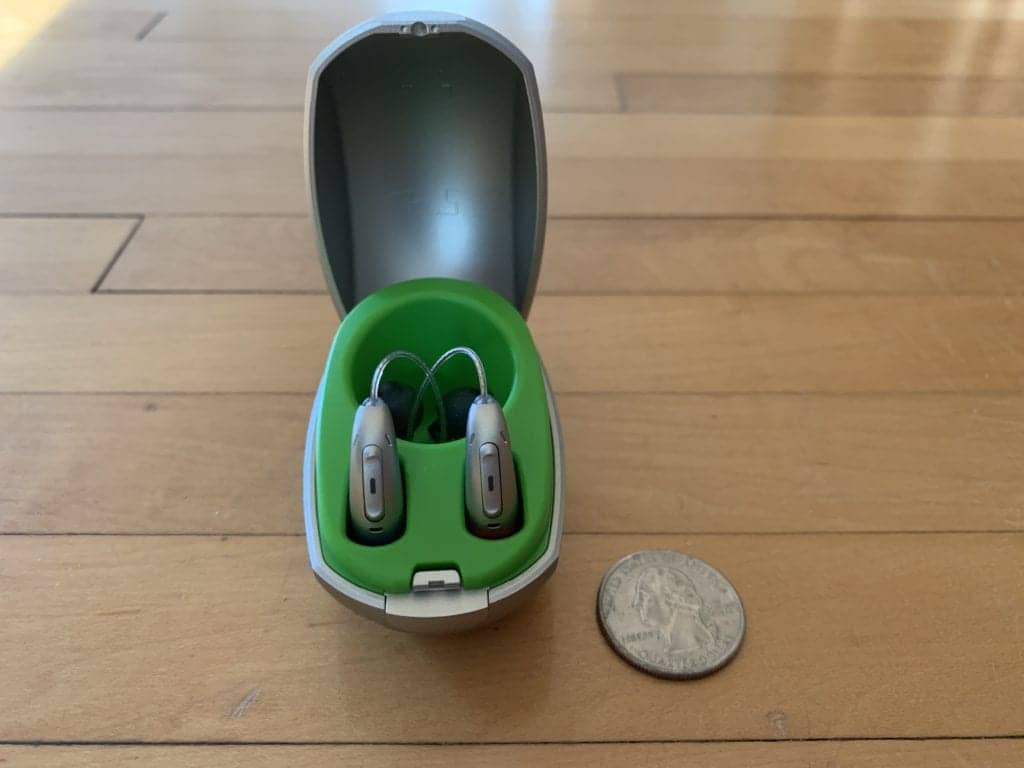 Voltaire said "Wherever my travels may lead, paradise is where I am." Phonak is hoping its newest hearing aid, Audéo Paradise, will evoke similar sentiments in people with hearing loss over a vast array of listening situations, and lend further support for its tenet that "Well hearing is well being."
As the successor to its premium Audéo Marvel product line, Audéo Paradise has big shoes to fill. Marvel was introduced in October 2018 and sold over 1 million hearing aids within its first year—the fastest-ever sales for the company and probably Phonak's most successful hearing aid since its 2005 launch of Phonak Savia. A Marvel 2.0 upgrade was released last August which, among several other things, made RogerDirect technology available to all Marvel hearing aids while expanding form factor options.
The new Phonak Audéo Paradise, officially released today (August 19), is designed to provide "the next level of excellent sound quality" through its new PRISM (Processing Real-time Intelligent Sound Management) sound processing chip that features approximately double the memory of Phonak's previous chip, "universal" connectivity options, and a new fitting formula designed to provide better fits (particularly for milder losses), reduced reverberation, greater dynamic range, and reduced listening fatigue in noise. The company is also introducing a new version of AutoSense OS™ (ASOS 4.0), the fourth-generation of its successful operating system which augments the existing feature set found in Audéo Marvel with a new speech enhancer, dynamic noise cancellation, and motion-sensor hearing technology for even better performance in noisy environments.
The integrated motion sensor not only detects when the wearer is moving and having a conversation, but it also supports hands-free conversations while connecting with Siri®, Google Assistant™, or Amazon Alexa® via a simple double-tap to the ear. The new hearing aid also features proven lithium-ion rechargeable battery technology that provides a full day of listening, including audio streaming, on a single charge and comes with an easy-to-use portable charging unit.
In July, Phonak held an online premiere of its new Paradise hearing aid for members of the press, and later even allowed participants to try the product for themselves during a remote fitting session (look for the upcoming blog about the editor's experience with remote programming for a mild hearing loss).
Sound Quality and Innovative App Features
During the online media event, Phonak Product Manager Fabia Müller detailed three new features of the Audéo Paradise. These key features are designed to improve ease-of-use for the hearing aid wearer, while enhancing communication in a multitude of listening situations, particularly in quiet, in loud environments, and for special situations involving movement:
Speech Enhancer is designed for more intimate one-on-one conversations with a friend or loved one by enhancing the peak elements of speech (ie, providing more gain on the soft input speech signals).
Dynamic Noise Cancellation is a new feature that employs a directional beamformer when users are trying to understand speech in a loud environment, like in a restaurant, bar, or playground. The new system works in combination with Phonak's adaptive beamformer, as well as the motion sensor. Müller says the entire system can provide up to 4 dB SNR improvement.
Motion Sensor Hearing detects if the user is moving or stationary, then seamlessly steers the microphone mode and the dynamic noise cancellation appropriately to maximize the speech signal and retain natural sound.
"With Paradise, we are delivering crisp natural sound, brilliant speech understanding, and personalized noise cancelling," said Müller. She says ASOS 4.0 system uses artificial intelligence (AI) to orchestrate a fully automatic experience, blending the new features above into the existing Audéo features to ensure that the beamformer and dynamic noise cancellation are in the appropriate settings—whether one is walking or standing still—in a wide variety of environments.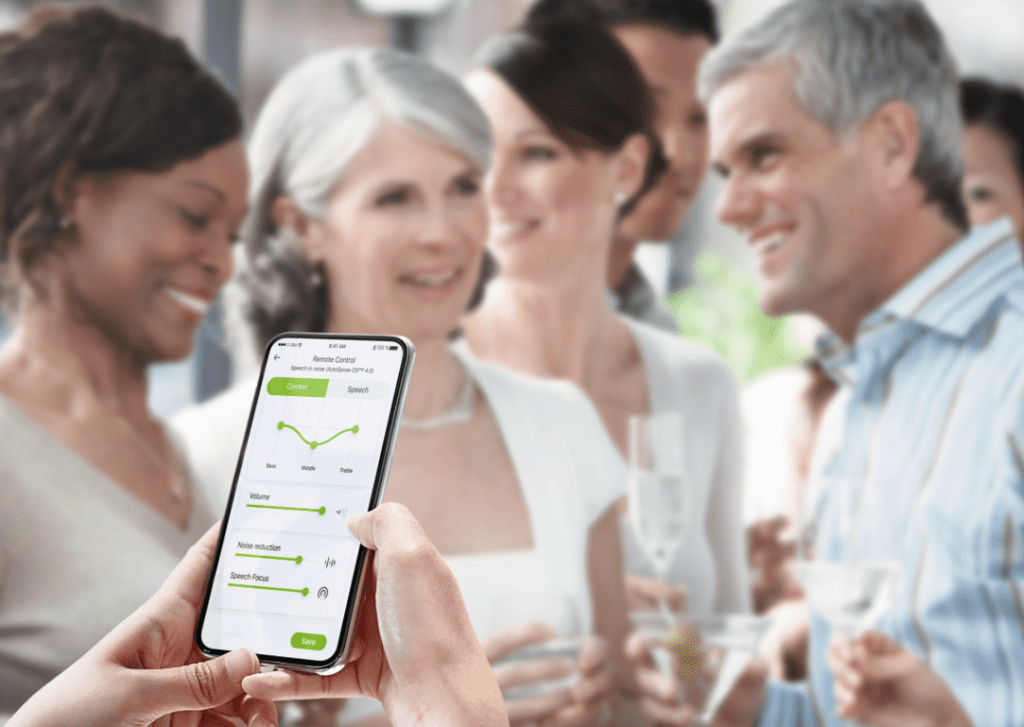 Paradise also introduces a suite of personalized digital solutions so hearing aid wearers get the most out of their new hearing aids. Through the myPhonak app, consumers can now easily adjust the level of background noise, and even receive a hearing test directly through hearing aids from a professional remotely, without leaving their home. The Phonak Hearing Screener has also been upgraded so that any person can quickly receive a hearing assessment online.
Audéo Paradise users can also receive help in special listening situations from the app's Hearing Diary. Within the diary, there are four broad areas: "sound quality," "speech understanding," "hearing aid," and "other." Within each of these areas, one can choose to rate your satisfaction in various situations like "conversation in quiet," "restaurant," "watching TV," "music," "workplace," etc, then provide more specific comments and feedback for assistance and/or possible adjustment.
Broadened Connectivity Options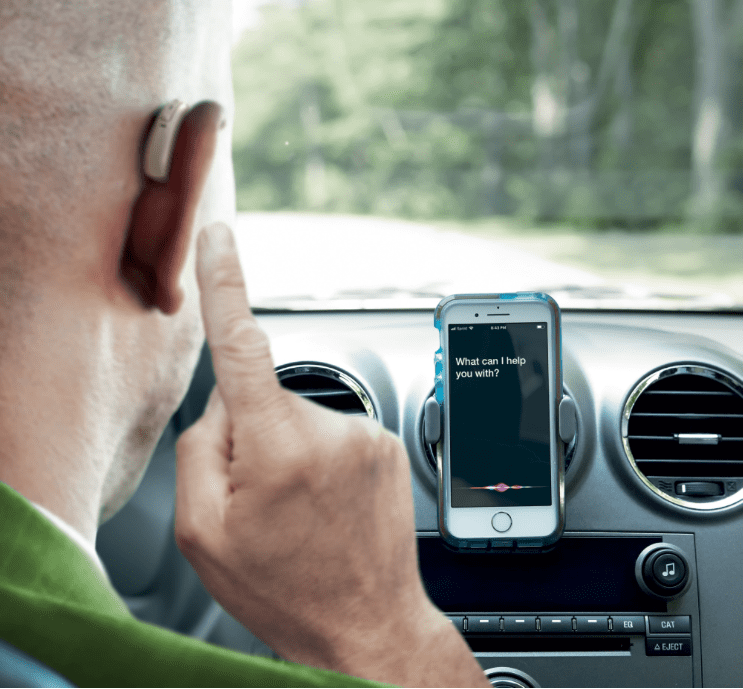 With the new Tap Control, Paradise users can activate Siri or Alexa, answer or reject calls, or even pause or resume audio streaming by tapping on the outer ear (upper helix/pinna). In previous Phonak Audéo hearing aids, there were two Bluetooth connections, with only one being active at any one time; with Audéo Paradise, there are now eight possible Bluetooth connections, with two capable of being active via the customisable Tap Controls.
New First-fit Capabilities and Advanced Processing
Phonak has also adapted its proprietary fitting formula to these new capabilities by introducing Adaptive Phonak Digital 2.0 (APD 2.0), an update to the original fitting formula introduced 15 years ago. There are three main changes in the new APD 2.0:
Adaptive compression speeds for greater dynamic range and reduced perception of reverberation;
"Linearalized" gain for higher inputs like loud speech-in-noise situations or music (ie, a "louder input kneepoint"), and
A new pre-calculation of the gain settings and amplification schemes for mild-to-moderate hearing losses to provide better first-fit acceptance at the first appointment for this unique user group.
Müller noted that research at Hörzentrum Oldenburg GmbH showed APD 2.0 helped reduce listening effort particularly in noise. Additionally, OSOS 4.0 uses AI to orchestrate these new features, as well as previous Audéo performance benefits, to provide the best speech intelligibility and sound quality.
In summary, Audéo Paradise is the first hearing aid to benefit from Sonova's new sound processing chip, PRISM, which delivers crisp, natural sound in any environment for excellent sound quality. In quiet situations, soft voices over distance are enhanced by the Speech Enhancer. With the Motion Sensor Hearing, the hearing aids can detect when the wearer is moving while having a conversation and automatically adjust the directional microphones to focus on the direction of speech. Paradise wearers also have more control over how they hear thanks to a new personalised noise cancelling feature in the myPhonak app.
"When creating our latest hearing solution, we turned to nature for inspiration," said Martin Grieder, Group Vice President of Marketing for Sonova in a press statement. "Hearing is such an intricate part of our existence and fundamental for our overall well-being. Nature is also the source of so many sounds that can soothe, relax and comfort us. What better way to rediscover sound than with a hearing aid inspired by nature itself – Phonak Audéo Paradise."
The Bigger Picture of Brain Health and the Future
During the online media event, Phonak Director of Global Audiology Angela Pelosi pointed out that hearing loss fundamentally changes our perceptions of well-being, safety, and security—one of the many reasons why hearing healthcare needs to change its messaging from just solving immediate hearing problems to a more universal message of "Well Hearing is Well Being." Increasingly, scientific evidence shows that untreated hearing loss is associated with comorbidities like falls, loneliness and depression, increased use of healthcare systems, as well as cognitive impairment (eg, see recent Lancet Commission update that confirmed untreated hearing loss as the largest modifiable risk factor in dementia).
Julia Sarant, PhD, of the University of Melbourne presented information on a study indicating improved executive function for all participants who used hearing aids for 18+ months. The research also found that people with greater degrees of hearing loss are more likely to have poorer cognitive function, and that older adults who use hearing aids may be able stabilize their cognitive status or actually improve it significantly over time. In other words, "Looking after hearing health is also looking after brain health," says Dr Sarant.
Paradise Models and Availability
Audéo Paradise is available beginning today via licensed hearing care professionals in the United States. It will be offered in all performance levels across four models, all Roger compatible, including the Audéo P-RT, a lithium-ion rechargeable model with telecoil.
For more details on Audéo Paradise, visit the Phonak website.
https://honiton-hearing.co.uk/wp-content/uploads/2020/08/Honiton-hearing-near-Exeter-.png
630
679
admin
https://honitonnew.leecurran.co.uk/wp-content/uploads/2018/03/honitonhearinglogo.png
admin
2020-08-31 09:18:31
2020-08-31 09:18:31
Phonak Launches Audéo Paradise Hearing Aid